Bison Bar and BBQ - Meat Sweats Guaranteed!
BY: Ketty Elisabeth |
17 Jul 2014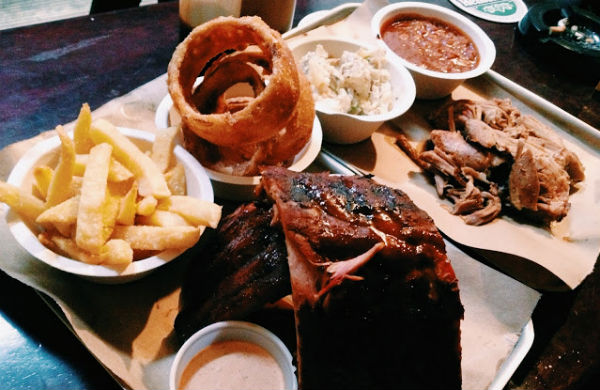 In the last year, casual eateries have popped up like mushrooms around Dublin's city centre. BBQ food has been one of the main trends and Bison Bar and BBQ opened on Wellington quay to the greatest pleasure of Dublin's hungry meat eaters.
The concept is pretty straight forward: you order food at the bar, pay, get a table number, take a seat and wait to be served. Reflecting its casual eatery style, the tables are filled with all the essentials, such as a big roll of kitchen paper, several different BBQ sauces and plastic cutlery.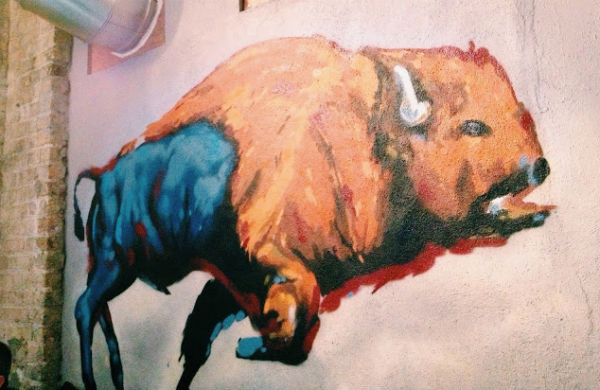 The interior of Bison Bar and BBQ reminds me of a Wild West saloon with its batwing doors and saddle seats. The seats aren't the most comfortable but look perfect for the style of the place. There is also an outside area, but it sometimes gets pretty smokey due to the BBQ and cigarettes.
The menu is likely to make any vegetarian freak out and is exclusively meaty. Beef brisket, St. Louis ribs, pulled pork, sausage links and split chicken are the mains. All of the options are tasty, smoky, juicy and an enjoyable mess to eat. I always end up eating with my fingers and find the food even tastier that way.
For a reasonable price of €13.95 you can order one of the mains along with two sides of your choice. The burnt beans are a must-try, deliciously spicy and smokey and the onion rings are massive and delightfully crispy. The portions are quite generous so modest eaters may prefer to share a plate.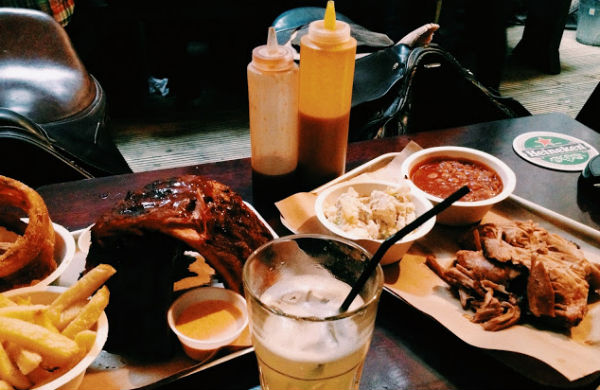 It won't take too much time to choose a dessert as there are only two on the menu, peach cobble or an indulgent chocolate brownie served with ice cream. Simple but more than enough after a meat overload.
During the day, it's worth visiting and trying their lunchtime specials of beef brisket or pulled pork bap served with a side for just €7.95. If you're in a hurry the bap without a side is only a fiver. What's not to love?
First and foremost Bison Bar and BBQ is a whiskey bar, with about 150 different types of whiskey and a good selection of craft beers. I personally recommend their whiskey sours, which go down a treat alongside a massive rack of ribs. There are other BBQ places in Dublin but this one is without a doubt the tastiest and will give you the meat sweats in the tastiest of ways.
Bison is open seven days a week and BBQ food is also served every day from 12pm to 9pm or until they run out.
Bison Bar and BBQ, 11 Wellington Quay, Dublin 2
____
Check out our restaurant deals in Dublin.