Drinking in the Best View in Dublin
BY: Claire Kane |
7 Jul 2014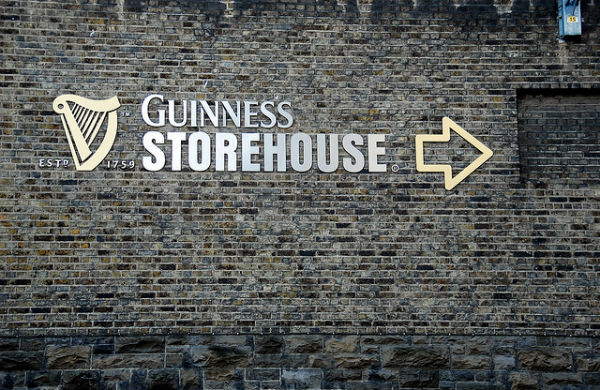 If you're trying to soak up a little more culture, there are plenty of things to do in Dublin. Although it may seem a little cliché to visit a brewery storehouse in a country that is renowned for its taste for alcohol, it is interesting to learn, as you climb up the pint glass shaped building, how Guinness is made, and how it came to be. Whether you're a tourist or a resident of the Irish capital, The Guinness Store House is a must see.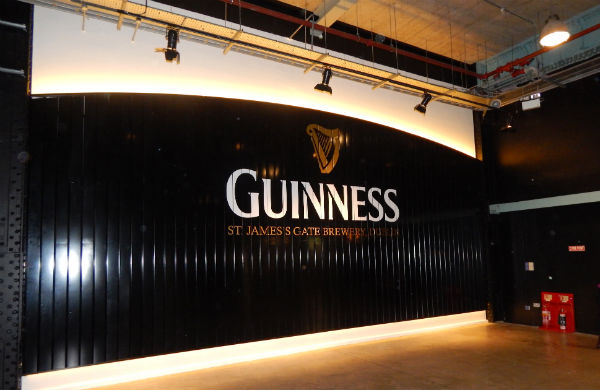 It all starts off with a lesson about the ingredients that are used to make one of the world's most famous drinks. You get to handle the barley, look at the fresh hops grow (the very ones that leave pungent but delightful scent lingering over the city), and stand under a beautiful rushing waterfall to represent the addition of water into the mix. The waterfall is probably one of the most spectacular parts of the entire stroll up the seven floors of the world's largest pint class. It is mesmerising and calming so make sure you get a snap beside it before you move on. Here, you also learn how the modern way of brewing Guinness compares to the old laborious way - it's interesting to see the time, effort and sheer labour that once went into it compared to the mechanically operated methods used today.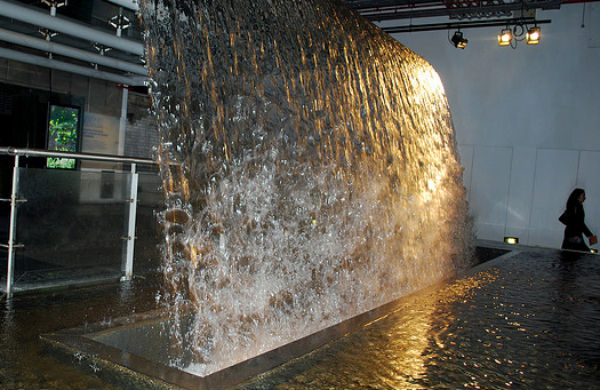 On the following two floors you are educated on the ways in which Guinness was once transported all over the world. This will be of interest to history buffs as you will learn of the effects World War II had on international transportation for the Guinness Brand. On these floors you can also gain insight into the brand's long and memorable history of advertising. Displayed on the wall are posters of decades gone by, many of which are war themed and some of them shockingly discriminatory, although perhaps not for their time. You also get to take a look at some of the TV ads from the '50s right up to the '90s on era appropriate TVs. Plenty of time can be spent on this floor, particularly if marketing is a big interest of yours.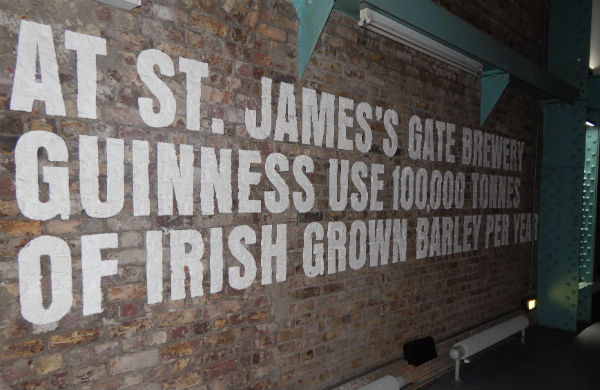 Let's be frank, however - the main reason to visit the storehouse is the Gravity Bar. Atop the largest pint glass in the world is a bar which gives visitors the chance to see Dublin from an entirely different perspective. The room allows for a 360 degree view, with landmarks of the city etched on the window so, if you live in Dublin, you can get a fair idea of where your house can be seen (admit it, if you visited before then that was your first mission). If you are lucky enough to visit on a clear day, you will be met with a spectacular view of the city but if you have the opportunity to visit at night, don't pass it up - nothing is more beautiful than a bird's eye view of Dublin lit up at night.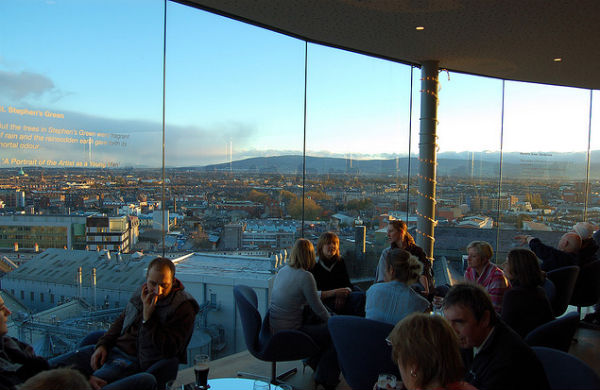 The Guinness Storehouse is located in Dublin 8, and is easy enough to get to by bus or by LUAS. It is €16.50 per adult, although if you book online you get a €2 discount and €40 for a family to enjoy the experience.
Guinness Storehouse, St James's Gate, Dublin 8. Tel: 01 408 4800
Main image by Tinou Bao via Flickr
Waterfall image by Laura Bittner via Flickr
Gravity bar image by Bjaglin via Flickr
____
Check out our deals for cultural experiences in Dublin.