The Five Best Hot Dogs London Has to Offer
BY: Chris Pople |
11 Sep 2015
Like so many of the American comfort food classics that have swamped London in the last few years (wings, burgers, ribs, you'll know the score by now), some of the best hot dog places started life as street food, built a loyal following and then found a bricks-and-mortar site to settle into. Alongside these, a vast number of lazy rip-offs have since followed suit, but don't worry – just follow this guide to the very best dogs in town, and you can't go far wrong.
Herman ze German
A proto-chain, but despite this very decent purveyors of German-inflected wurst that have been feeding the hungry tourists of Charing Cross since 2014 (and Soho and Fitzrovia since then). The sausages themselves are faithful reproductions of those you might find in Bavaria, presented with seasoned fries and good sauerkraut, but the biggest seller is surely the Currywurst, available in four different heat levels. www.hermanzegerman.com
Dirty Bones
There was a slew of restaurants with very similar names opening very close to each other – (I even tweeted about it) – and Dirty Bones ran a very real risk of being dismissed as a lazy trend-chaser even before anyone sat foot in the place. But the presence of ex-F at Duck development chef Ross Clarke means the flavours are a little more interesting than usual (there's one with kimchi ketchup and wasabi mayo for example)and there's even the famous Heston triple-cooked chips to go with them.
Bubbledogs
When the press releases first started circulating advertising "London's first hot dog and champagne bar", there were a few incredulous giggles. But from day 1, Bubbledogs was an absolute smash, thanks to an acute knowledge of what makes American diner food great (tater tots, cheese whiz, lots of mustard and ketchup) and, less predictably, a hand-picked list of grower champagnes at incredibly reasonable prices. You'll queue at busy times, but it's always worth it; these people know exactly what they're doing.
Hawksmoor Spitalfields Bar
Still managing to feel like an undiscovered gem years after its opening, the menu of blinged-up US diner classics underneath the original Shoreditch steakhouse is a masterclass in how to reinvent comfort food for a smart cocktail bar crowd. And a highlight amongst highlights is the heaving, filthy chilli cheese dog, a beef/pork mix sausage on punchy chilli and with half a pound of cheese melted on top. It ain't subtle, but it is going to have you groaning with guilty pleasure. thehawksmoor.com
Big Apple Hot Dogs at Cole and Sons
Once upon a time, Abiye of Big Apple was a regular feature outside the old Fire Station on Old Street, serving his own recipe top-quality Polish-style sausages with thyme and onions and a huge helping of jovial flair. Since then, vast success has seen his dogs pop up on menus all around the capital, from cocktail bars to steakhouses. But the best (and probably cheapest) way to get your fix is currently from his new deli Cole and Sons on the Caledonian Road; cooked to order, eaten standing up, dressed with your choice of his vast array of condiments, these are supremely good dogs.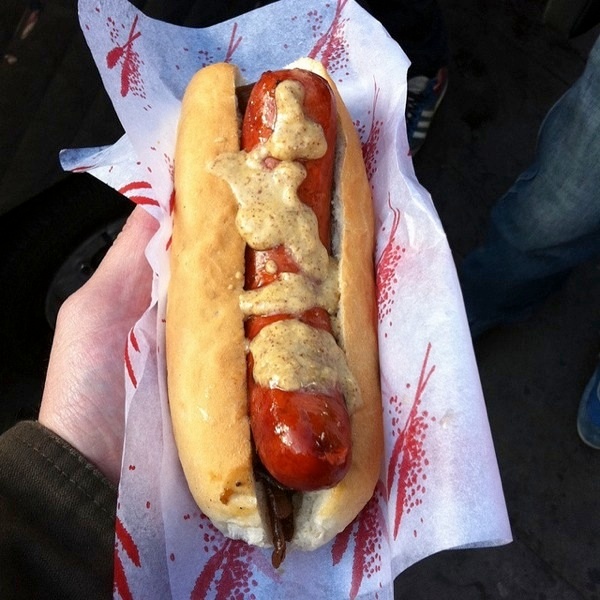 Related Reads
5 Great Ice Cream/Gelato Parlours in Central London
On the Hunt for the Best Bloody Mary in London
Browse our deals for American restaurants in London