The Best Place to Spend a Day Out in Dublin
BY: Claire Kane |
24 Oct 2014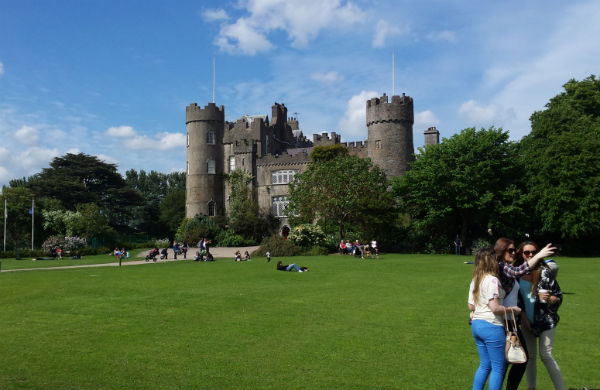 If you're wondering where to spend a day out in Dublin, you only have to go a few kilometres away from the city to soak in some fresh sea air. While Dublin has many wonderful seaside towns, few compare to Malahide, which offers an almost Mediterranean atmosphere, particularly on warm, sunny days. Here's why Malahide should be the destination for your day out in Dublin:
Malahide Castle
Malahide Castle has a lot to offer - not only can you take the tour of the castle, which dates back to the 12th century, you can enjoy some shopping and some delicious food in Avoca, which opened in the grounds of the castle in 2012.
Malahide Park
The park surrounding Malahide Castle is quite stunning with beautiful greenery, plenty of spots to relax and a playground for the little ones to run wild in. You might even be lucky enough to meet the resident peacock - reason enough to visit.
Local Pubs
If you want to indulge in a sneaky drink or two, there are some wonderful pubs to visit in Malahide - places with excellent atmosphere and friendly faces. Whether you're looking for a quiet pint in a homely pub or a trendy cocktail with some tasty nibbles, this chic town has you covered. Between Gibneys, a local favourite and the voguish Gilbert & Wright's all possible tastes are catered for.
Dining Worthy of Michelin Acclaim
As for restaurants this town is certainly not, pardon the pun, starved of them. Steakhouses with an Irish twist in the hands of Oscar Taylors and McGoverns provide a good feast for reasonable prices, coupled with an incredibly family friendly atmosphere. Oscar Taylors has been in Malahide since year dot remaining a favourite among locals and visitors. If you're looking for a place that will serve something for everyone in the family your trip to Malahide, this is your safest bet. For those looking for something a little more high brow, there are plenty of beautiful restaurants including Sale é Pepe, La Sirena and Michelin star restaurant Bon Appétit.
Scenic Wanderings
Walk off your few drinks and delicious grub along the coast road - a walk that provides scenery like no other seaside town. The view of the beach, Lambay Island in the distance and the unusual landscape of Robswall will give you more than enough to put in your memory bank. If you're wandering around Robswall, an area south of the village, you're likely to come across the highland cattle that graze on the land - friendly animals that seem to quite enjoy the attention from passersby.
So, have you any doubt in your mind that Malahide has more to offer than most seaside towns? From sparkling sea views akin to the south of spain, showy peacocks in the park, a myriad of restaurants in which to indulge and some friendly highland cattle grazing in the sun, it certainly is worth a day out.
____
Find more inspiration for things to do in Dublin.