The Crème de la Crème of Afternoon Teas in Dublin
BY: Edwina Elizabeth |
21 Jan 2015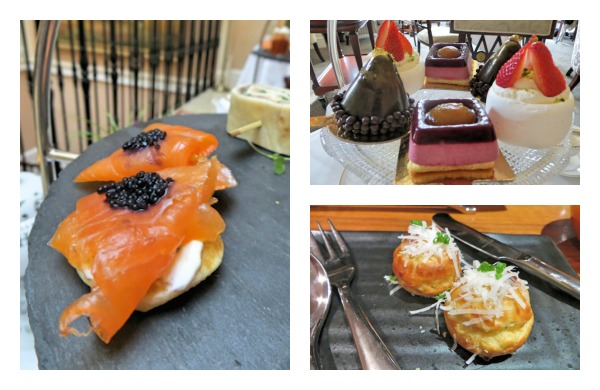 Afternoon Tea is a British tradition born of the early nineteenth century but one that the Irish have adopted and continue to love as their own. It's as popular now in Dublin and indeed the rest of this fair isle since its introduction into the drawing rooms of those oh-so-high-society ladies of the manor. Back then Afternoon Tea was served at home, nowadays it is served in hotels and some restaurants. It usually starts with a selection of savory bites, moves on to freshly baked scones, jam and clotted cream and finishes with a selection of sweet pastries. To keep one's palate lubricated, tea is served throughout, although I've often opened with a glass of bubbly and closed with a cup of coffee.
There are number of reasons Afternoon Tea is so popular. It's a luxurious treat, for one's birthday or celebration. It's the ideal setting for a catch up with family or friends. It's a food lover's experience. For me it's a mixture of all three but the later reason is my most favourite by far, because for me it's all about the food.
I've nibbled my way through the finest of sandwiches, licked my lips to the most delectable of desserts and sipped enough tea, pinkie finger always extended, to be able to bring you my top five five-star Afternoon Tea's of Dublin City. These are the crème de la crème of Afternoon Tea's and all highlighted by their own unique character.
The Best for Adults' and Kids' Afternoon Tea
Monday to Sunday 3pm - 5.30pm
The Westbury Hotel with an address of Grafton Street Dublin 2 offers its patrons Afternoon Tea from a gloriously bright, luxurious and quite expansive room called The Gallery. The room, although large, is warm with expertly placed couches, tables and chairs that range from modern to antique in style. When I dined there, there were a number of couples, groups and families and the atmosphere was relaxed. The service we received was super and the view we had from our table by a window entertained us in between courses as it looked right out onto Grafton Street. The Afternoon Tea menu changes every couple of weeks, keeping it fresh and interesting and the pastries served are always special but even more so around 'Special Days' such as St. Patrick's Day, Valentine's Day and the like. With a Children's Afternoon Tea Menu also available, The Westbury opens it's doors to a family experience. Afternoon Tea is €42.00, Children's Afternoon Tea is €20.00 and as a memento of your visit you receive a complimentary box of Butlers Chocolates.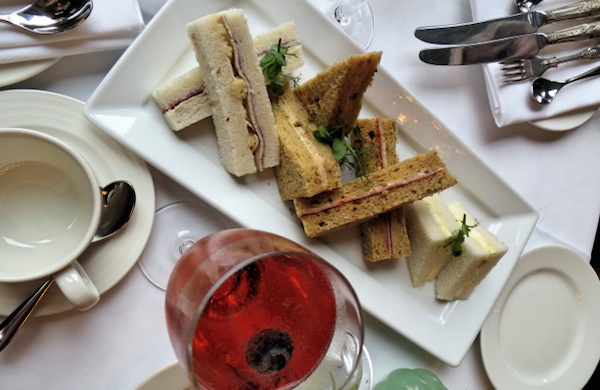 The Best for Art Lovers' Afternoon Tea
Monday to Thursday 3pm - 6pm
Friday to Sunday 2pm and 4.30pm
The Merrion on Upper Merrion Street Dublin 2 doesn't offer Afternoon Tea, it offers 'Art Tea at the Merrion' and when you find yourself perched on the edge of one of the 'can I sleep here couches' at one of the antique, white clothed tables you'll know why. However, mystery aside, the 'Art Tea at the Merrion' is called so because each Afternoon Tea sitting is an artistic experience. How so I hear you ask. Well, because of the soft breaded sandwiches, the brown bread, the best Battenberg cake I've ever tasted, the freshly baked scones and the pièce de résistance are the art-inspired pastries. They are like miniature pieces of art, inspired by the famous Irish, European and World Art that graces the walls of The Merrion. Pastry Guru and 'Great Irish Bake Off' Judge Paul Kelly proves his talent when it comes to inspiring pastry treats that not only please one's eyes but also one's taste buds. Afternoon Tea is €36.00 and as reminder to return to eat more art, a complimentary picture book of all the art housed by The Merrion is offered.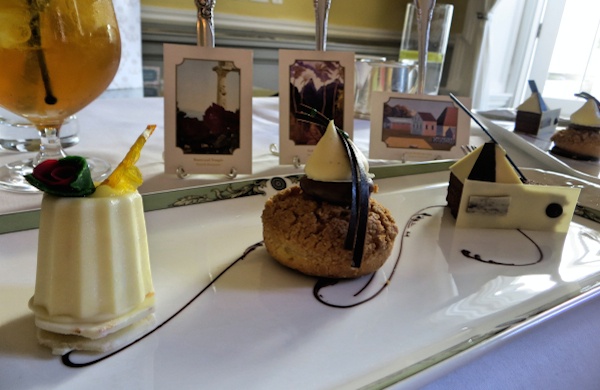 The Best for Traditional Afternoon Tea
Monday to Sunday 1.30pm - 5.30pm
The Shelbourne Dublin, A Renaissance Hotel has a rich and colourful history with part of its history being The Mayors Lounge, which can be found to the front of the hotel on the ground floor looking out onto Stephens Green. It is in this lounge that The Shelbourne's Afternoon Tea takes place. This elegantly, plush, chandeliered-lit room with baby grand piano and marble topped sideboard is both traditional and comfortable at the same time. Sandwiches are displayed on a long serving plate and tea is strained through sterling silver tea strainers. The traditional three-tier stand of freshly baked warm scones and ginger bread are served with generous portions of Shelbourne's Strawberry Jam and clotted cream. The desserts are inspired by episodes in history that range from The Blackberry Mousse, which was first, served in 1924 to The Shelbourne Pavlova which was first enjoyed there in 1954. At the weekend the piano comes alive via the musical talents of the house pianist. Afternoon Tea from Monday to Sunday is €49.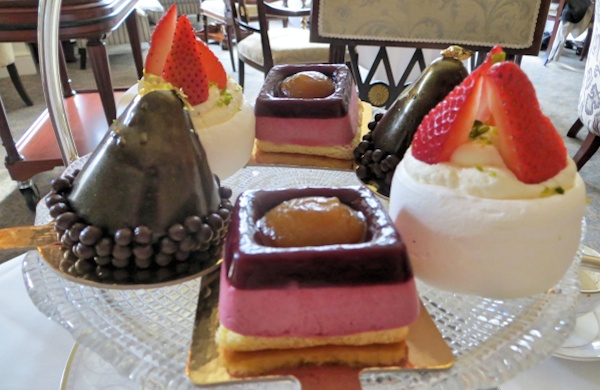 The Best for Boozy Afternoon Tea
Monday to Friday and Sunday from 2pm - 6pm
Saturday 1pm - 6pm
The Westin Dublin Hotel on Westmoreland Street in Dublin two offers two styles of Afternoon Tea, 'Traditional Afternoon Tea' and 'A Most Peculiar Afternoon Tea'. It's the 'Peculiar' option that wins for me. The reason for this is because in the place of tea, one is served from a very fine looking teapot a most refreshing and Victorian Mojito cocktail. Made with Hendricks's Gin, mint, lime, and freshly pressed and churned apple juice, this is one cocktail you will want to return for. Keeping with its peculiarity is the Afternoon Tea three-tiered foodie selection. Sandwiches are replaced with confit of pork cheek, scones are replaced with mouth-watering banana and walnut bread, clotted cream replaced with cinnamon and honey butter. Pastries are perfectly peculiar offering your taste buds popping candy, popcorn and salted caramel surprises. Each of the three-tiered courses complements the next and the gin-based cocktail complements all three. At €26.00 you'll find it most peculiar that you leave with enough change for the bus home.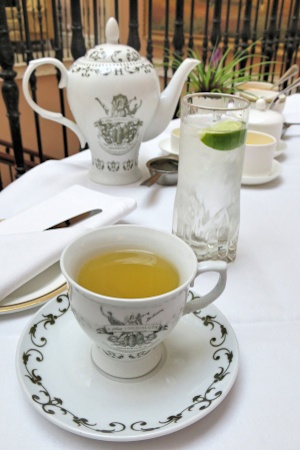 The Best for After-hours Afternoon Tea
Monday to Sunday 3pm - 7pm
The Fitzwilliam Hotel on St. Stephen's Green offers those who want the option of Afternoon Tea in the evening, whether it's after work or my favourite: after shopping. Their Afternoon Tea aptly called 'Late Afternoon Tea' takes place in the 'Inn on the Green' on the ground level of the hotel. The surroundings are modern and streamlined with Aztec styled furnishings and modern art adorning the walls. To add a hint of traditional but also cleverly keeping with the modern style, one cannot but notice the rich and curved traditionally Irish styled wooden bar. Keeping in tune with this modern twist to Afternoon Tea is how the Afternoon Tea is served. Cups made of glass as opposed china, glass teapots and metallic three tiered serving plate all fit with The Fitzwilliam's modern decor and style. Sandwiches are nowhere to be seen and savory bites include tomato cones with beef, delicious beetroot jelly and truffle arancini. The sweet course is a mix of traditional and modern tastes with scones, macaroons, and moreish rose water truffles. A Late Afternoon Tea is €25.00 and could be your evening wind down or as there is a full bar and cocktail menu to choose from, your kick start.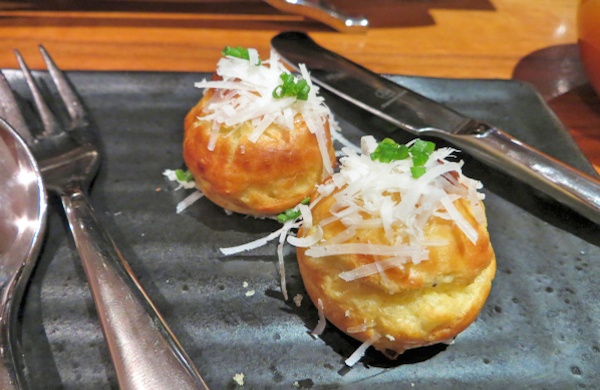 ____
Treat yourself to afternoon tea in Dublin.