Ugly Duckling Dublin - The No. 1 Sandwich Destination
BY: Edwina Elizabeth |
12 Nov 2014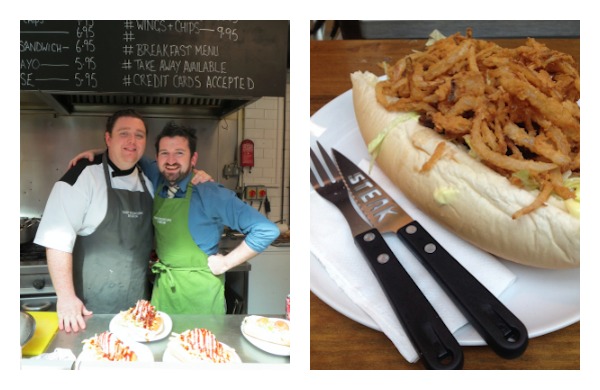 Ugly Duckling Dublin, nested in the Epicurean Food Hall on Liffey Street Lower, is the place I go to when I want a ridiculously tasty sandwich. It's owned and run by two best friends, Derek Marsden and Darragh Nugent, both of whom know how to put smiles on the faces of their regulars with welcoming customer service and mouthwatering sandwich concoctions.
Their sandwich masterpieces have earned them places on many online 'best of' lists, partly because of their focus on using the best and freshest ingredients. One lunch time, not so long ago, I asked the guys if they'd be interested in answering a few questions for Groupon Guide readers and being the gents they are, they agreed. So here it goes...
Q: So who's the brainchild behind Ugly Duckling?
Darragh: Ugly Duckling's growth has been fairly organic - when we initially set out we were ultimately trying to set up a small foodie institution with a little bit of everything. However, as time went by we found that we were getting a better response from the heavy hitting sandwiches than anything else. Bit by bit everything else was weaned from the menu until we had twelve sandwiches that were all selling well and we were proud of.
Derek: We wanted to do something together for a long time and we took the unit in the Epicurean food hall with an ethos of how we wanted to do things more than what exactly we wanted to do. We wanted to test the market a bit but at the same time not let the market define us. From the get go it was all about serving high quality affordable lunches that people would talk about.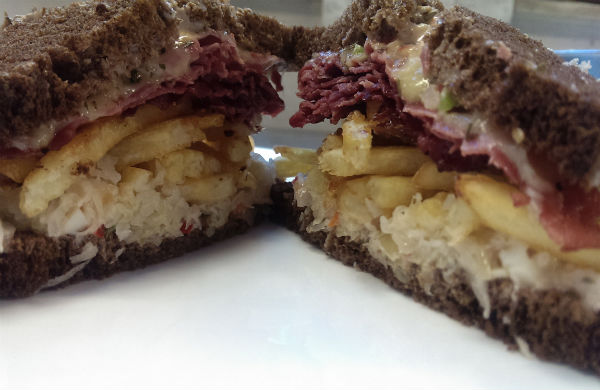 Q: How did you guys get to know each other?
Derek: We've been friends since childhood - we grew up across the road from each other and went to school together. Darragh was the best man at my wedding and I'm godfather to his daughter. Both our families are involved in the hospitality industry. When we both took part time jobs in the industry at age 14/15 we fell in love with it.
Q: Where did you get the name 'Ugly Duckling'?
Darragh: We went back and forth over names for about a day and a half. The name was extremely important to us, not only because it would be the name we would potentially build our reputation upon, but because we needed to give the project a name as a whole. We played around with ideas with animals, for example, the greedy pig, the fat cow but we couldn't settle on any one name. Then Derek sent me a text saying "Ugly Duckling?" and I wrote back "love it".A few people spoke about the negative connotations of having a derogatory adjective followed by a noun, but we weren't phased by it one little bit. I love the name now every little bit as much as when Derek first suggested it.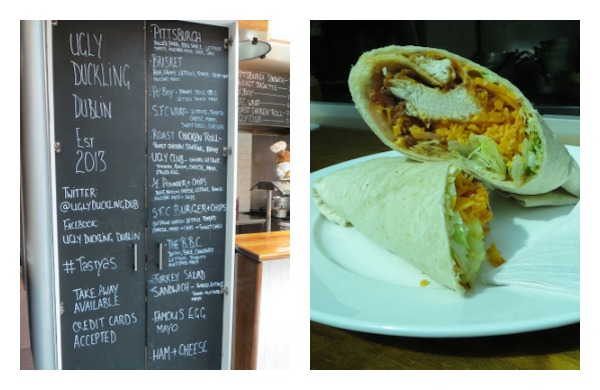 Q: Some of the offerings at Ugly Duckling look like they are inspired by the Man Vs. Food T.V. programme but what was/is the real inspiration behind Ugly Duckling's menu?
Darragh: I think every sandwich has it's own little history. I was in San Francisco in 2007 with a friend - we were looking for somewhere to live and my friend Amy said we could stay with her while we sorted accommodation. She brought us down to a restaurant in north beach called Giordano Bros. Giordano Bros is known as the Californian home to the Pittsburgh sandwich. Basically every sandwich is served with fries and slaw, so you can get a salami Pittsburgh, a smoked turkey Pittsburgh etc. So I brought the concept to Derek and he dismantled and subsequently recreated the Pittsy as we know it today.
The Brisket Baguette with the fried onions was one of our daily specials in the "Hot Meat Roll" category which just took off, although I think Derek knew it would anyway. Also the whole "Man Vs. Food" tag that we've been given is great, sometimes it can misrepresent us, I think people begin to assume that our product is quantity over quality, which of course it certainly isn't - we're not hosting food challenges where people are busting at the gut, and to be honest it's rare that people come back saying that they couldn't finish a sandwich, unless of course they didn't know what they were letting themselves in for in the first place! Our food does bear striking similarities to the whole American diner scene though and that's what we were really aiming for.
Derek: There is a resemblance to man v food style cooking but we are all about flavour and that's what we work hard to achieve. Every sandwich that goes on the menu we have a real think about before hand and always try out on a few of our regulars. We always want a few of our sandwiches to have the WOW factor but also taste really good. It's not about shocking people as much as it's about impressing people. We don't do anything just for the sake of doing it, all of our ingredients are thought out first.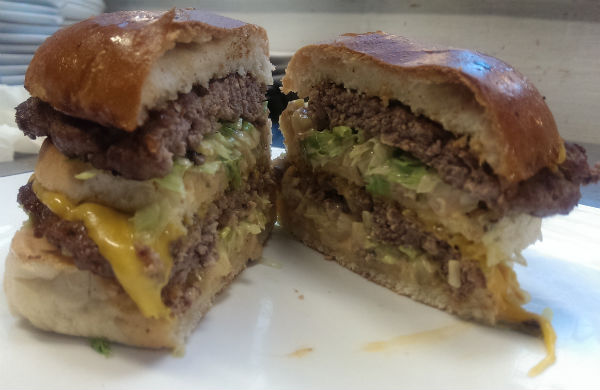 Q: If you could feed an Ugly Duckling speciality to a famous Irish star, who would it be and what would you feed them?
Derek: For anyone eating with us for the first time I would suggest the Pittsburgh sandwich, I think it's something really special, I love the combination of hot meat and fries vs. the cold salad and slaw. I also love the sweetness of the meat vs. the sharpness of the sauce. We actually have a few famous regulars amongst our clientele, some actors, some sports stars and an entertainer but when they come in we treat them like anyone else and that's what they want. One of my favourite actors comes in regularly with his son and I have never said anything to him except for the normal 'hello, how's tricks' that I'd say to any customer. Being in the centre of Dublin you see famous people all the time but we never draw attention to them, just let them enjoy their food. I would however, like to feed Brian O Driscoll.
Q: Dublin is a foodie hub and there is a lot of competition. How does Ugly Duckling stay ahead of the game?  
Darragh: The reality is that we are only competing with ourselves, after all it's very much our responsibility to keep the customer interested and excited about our product. I mean, the sandwich craze has certainly hit Dublin, and without a doubt some of the best reuben sandwiches I've ever tasted are available in Dublin city thanks to the likes of 147 deli and Oxmantown. Ten years ago if you asked for a reuben I could almost guarantee that nobody would know what you were talking about.
Again though, these guys have set top-notch standards, and they're passionate and committed enough that they will keep on hitting the ball out of the park. We are the same, we have to be. We are aware that the up and coming customers that we serve are always looking for the next big thing, "what's next? what's trending on twitter? did you hear about the new sandwich in ugly duckling?"
You do have customers who come and have the same thing time after time, and they're great too, and as long as we keep putting out a quality product they will keep coming back. But it's the guys who have been to all the other hubs, the guys who are tweeting about the new beers, bakers, butchers and whatever else, they're the ones you need to keep reeling in so that they're talking about you too.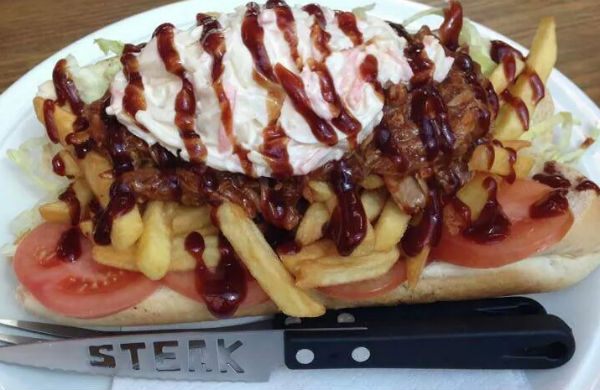 Q: In the story, Ugly Duckling turned into a beautiful swan, what can you see Ugly Duckling becoming?
Darragh: Ugly Duckling will hopefully always maintain the vibe that we have established, the biggest concern that I have is that the familiarity that myself and Derek have with our customers will be continued as we begin to grow.
I suppose I see Ugly Duckling growing into something different again, I think we will adapt and change as time goes by, I mean when we first opened our doors if you had told me that 14 months down the line we would be almost exclusively a sandwich bar I most likely wouldn't have believed you.
But I suppose that's business for you - we just keep on developing according to what the customer wants. So what's next for Ugly Duckling? I'm not sure! We have a few things up our sleeve, it's just a case of develop, expand, develop, expand. And who knows if it will ever stop.Either way, it's certainly an exciting time to be involved in the food business.
...Finally, what do I order when I go to Ugly Duckling?
They change the menu regularly to keep it interesting so I'm always trying new things but there are a few 'staples' that I love, such as their best selling Man Vs. Food style 'Pittsburg' - pulled pork, BBQ sauce, lettuce, tomato, mustard mayo, chips and slaw (that's coleslaw folks). Another Ugly Duckling classic is the Brisket - beef, gravy, lettuce, crispy onions (nom nom) and mustard mayo. Both of the aforementioned sandwiches are served on fresh soft rolls and you do need a knife and fork to eat them, unless you are some sort of dining magician.
Connect with Ugly Duckling on Facebook and Twitter .
____
Click for Dublin foodie deals.