A Guide to the Best Vintage Shopping in Dublin
BY: Edwina Elizabeth |
3 Mar 2016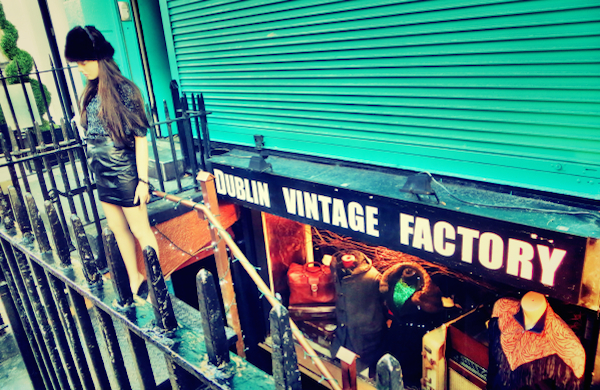 For as long as I can remember, when it comes to second hand and vintage shops, Dublin is a treasure trove. I'm not talking about the musty places where you have to rummage through baskets and browse overstuffed rails, I'm talking about the places where you find the real gems - the second hand and vintage shops that are making a living from and dedicated to bringing you steam cleaned one-off items that don't smell of mothballs. Here are ten of my favourites in Dublin.
In order of postcode...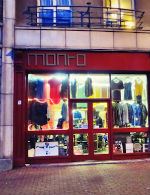 Monto
Owned and run by Marian McKenna who not only sells vintage designer gear but also designs custom clothing. You're sure to find something unique to wear here. Marian knows what she's doing and has had over 15 years to practice her craft for sourcing one-off pieces and quirky designs from around the world. She focuses on providing her customers with a designer flair and artistic advice.
Monto, Stewart Hall, Parnell Street, Dublin 1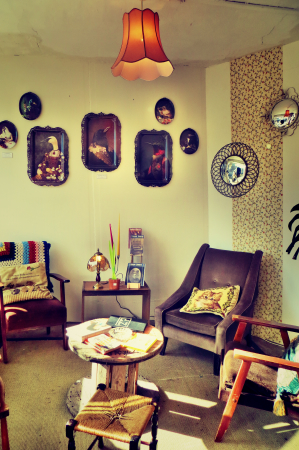 9 Crow Street
Run by the very talented Melissa, Emma and Dean, who originally set the shop up on Crow Street, Temple Bar over four years ago (hence the name), 9 Crow Street have created a stylish vintage clothing and lifestyle shop at their home on the quays and an energetic presence on their online home. These gals and guy are very visual when it comes to styling and I adore their photo-shoots.
9 Crow Street, 5 Ormond Quay Lower, Dublin 1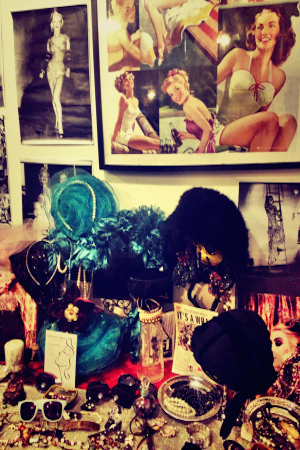 Siopaella
Siopaella is by no means camera or press shy and regularly features in style blogs, magazines and on national TV. Most days I've popped by the owner Ella de Guzman has been there with a smile on her face and her dogs by her side. As well as a second hand shop, Siopaella is a consignment store and there are always fab designer pieces on display. Keep an eye out for their sales and most of the best gear is advertised on their Facebook page.
Siopaella, 8a Crow Street, Temple Bar, Dublin 2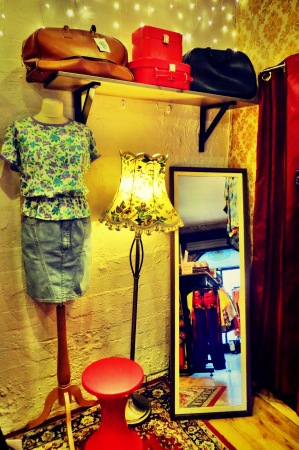 Shotsy Vintage
Shotsy Vintage is a newbie in comparison to the other shops I've mentioned so far. It may also be quite small but it is one of the best laid out shops around, everything has its place in Shotsy Vintage and rails are ordered by style and colour. The vintage designer section is rather small but the pieces there are normally very unique. Catering for both gals and guys, it's a wee shop worth popping into.
Shotsy Vintage, Temple Lane South, Temple Bar, Dublin 2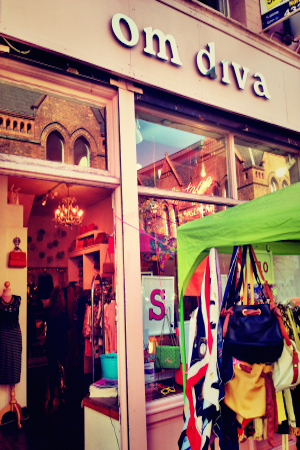 Om Diva
From the outside you'd think that Om Diva was a normal, pretty as a picture boutique and you'd be right but there's much more behind the doors as new designs can be found at ground level, Irish designs on the first level at Atelier 27 and on the basement level you'll find their Second Hand selections which keep with the pretty in pink vintage theme. Run by Ruth Ní Loinsigh since 2010 it's a great spot for finding quirky blouses, skirts and dresses.
Om Diva, 28 Drury Street, Dublin 2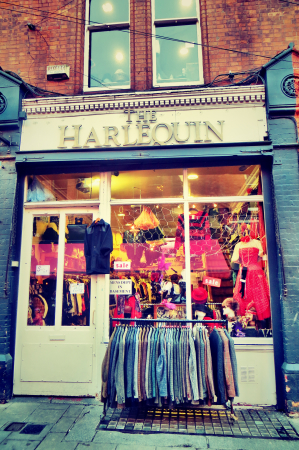 The Harlequin
This place will always have a place in my heart as it is the place I found my vintage full-length bottle green leather coat when I was a teen. I still have the coat and plan on fitting back into it some day. Set up by Suzanna Smyth many moons ago, this place is a treasure trove of vintage. It's a must when vintage or second hand clothes or accessory shopping whether you're a boy or a girl. A must, I say!
The Harlequin, 13 Castle Market, Dublin 2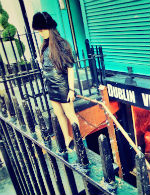 Dublin Vintage Factory
Keep your eye on the basement level stores as you walk up this Fashion Quarter Street as you never know what you might miss, like for instance the Dublin Vintage Factory. Formally Golly Gosh Boutique and run by T,D&A which stands for Terri, David and April this vintage and second hand clothing offering was re-launched to the public in 2013. I love the style offered and fun that's portrayed.
Dublin Vintage Factory, 60a South William Street, Dublin 2
JB Smilk Vintage Clothing
In the basement that is the maze of The Mingle Marcade, you'll find JB Smilk's Vintage Clothing. A great spot to pick up a retro or vintage check shirt, and a pair of vintage levi's. Old school dresses like they wore to barn dances sway next to 70's style blouses and when browsing you'll also be tempted by the artwork on display and music playing, you'll most likely give in too.
JB Smilk Vintage Clothing, The Ferocious Mingle Marcade, 60 Camden Street, Dublin 2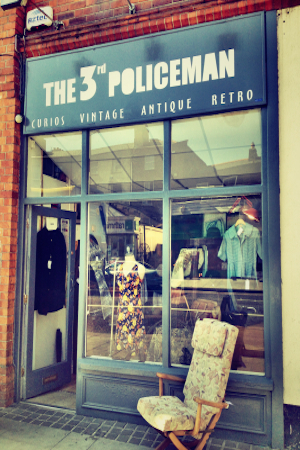 The 3rd Policeman
A little stroll out of the city centre but worth the walk, The 3rd Policeman is a fantastic shop that verges on an antique store but which features great vintage pieces for both men and women ranging from the 1920's to the 1990's but all in great condition and tastefully chosen. Run by mother and father, Denise and Ed and their son Alistair, The 3rd Policeman is yet another example of taking a passion and turning it into a livelihood.
The 3rd Policeman, 121 Lower Rathmines Road, Dublin 6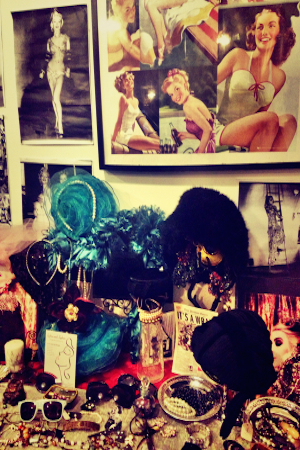 The Cat's Meow
The Cat's Meow is as unique as they come. Run by Maureen Smith, the store includes lots of everything from yesteryear including antiques, furniture and all the other trimmings. A one stop shop for vintage and so much so that you can actually get your hair rolled or flicked courtesy of Maureen and Maite who also form the duo behind Locks and Lashes which can be found on the premises too but book in advance.
The Cat's Meow, 74 Francis Street, Dublin, Ireland 8
There are many other Second Hand and Vintage Shops to be found in Dublin City and particularly in Temple Bar that should be visited too, like Sharp's Ville, Helter Skelter, Flip, Florescent Elephant, Lucy's Lounge and The Eager Beaver … all these great shops have been around since I remember and for as long as people have style second hand and vintage shops will survive.
Related Articles
Must-See Vintage Markets on the Northside
Where to Buy Sexy Stuff in Dublin?
How to Choose the Perfect Pair of Jeans
____
Find a Dublin shopping deal.