BBQ Restaurants Dublin - Our New Obsession!
It looks like Dublin has become obsessed with BBQ food. It went from only one spot, the Aussie BBQ, to almost too many to choose from. We even have a yearly BBQ festival now for the BBQ food obsessed. So where can you find the meatiest ribs, juiciest burgers and most delectable pulled pork? Have a look of at this list of Dublin's BBQ restaurants, drooling is allowed!
Bison Bar
Without a doubt my favourite place for BBQ food in the city. Bison Bar on Wellington Quay is a whiskey bar where you can get the tastiest slow roasted meat in the city. With its saloon looking décor, it certainly puts you in the mood for a glass of whiskey and succulent meatiness. Brisket, pulled pork, sausage, chicken or ribs: choose a plate of meat or a combo that comes with two sides and things get dirty!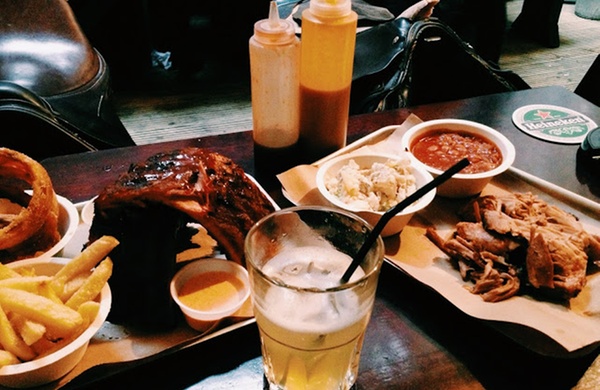 Bison Bar, 11 Wellington Quay, Dublin 2
Pitt Bros
Pitt Bros opened after Bison Bar in the spot-on central location that is Georges Street. The menu is very similar and you will find the same meat options while they have a larger choice of sides, which includes options like mac and cheese or bone marrow mash. The bun meals are great value especially the pulled pork and brisket ones, served with a side for €11.50. Plus you'll be happy to know that free ice-cream is available for all at Pitt bros.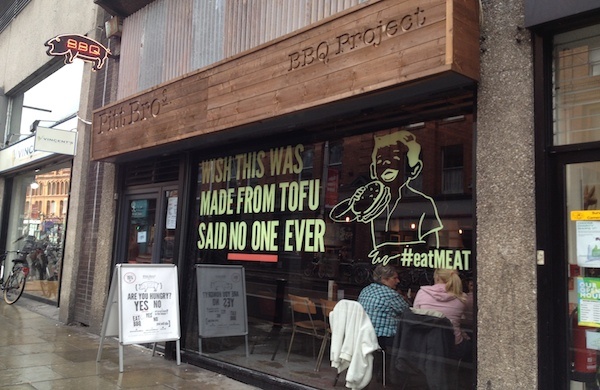 Pitt Bros, Unit 1 Wicklow House, Georges Street, Dublin 2
My Meat Wagon
For people based on the Northside of the Liffey, My Meat Wagon would be the go-to eatery in case of BBQ cravings. The kitchen has been pimped to look like a food truck parked inside the restaurant hence the name. The interior is quirky, the drinks served in jam jars, the music is loud and the food hits the spot. Decide between meat in a box, burger or served on a board and get sides to go with it (your fries will be in the cutest mini trolley).
My Meat Wagon, Smithfield Market Square, Dublin 7 (cover photo)
Asador
Now, Asador would be the poshest option on the list, it's a swanky looking modern barbecue restaurant. Starters feature maple smoked BBQ ribs, chicken wings and even the raw meat beef tartar. For main courses, there are different cuts of beef (fillet, sirloin, côte de boeuf for 2), barbecued fish and several other types of meat. If you're two people, definitely go for the BBQ seafood or BBQ meat platter to taste of a bit of everything.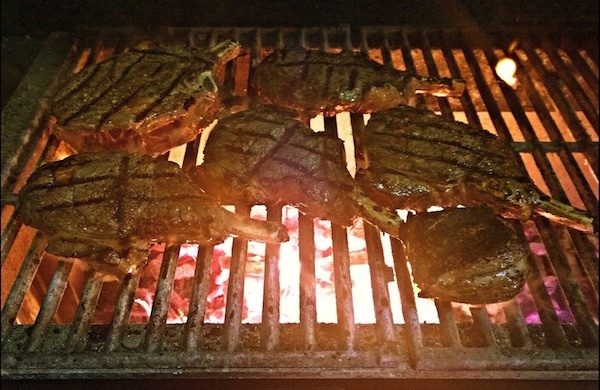 Asador, 1 Victoria House, Haddington Road, Dublin 4
Related Reads
Best French Restaurants in Dublin - By an Expert!
Beer Gardens Dublin - 5 of the Best for Summer Sips
The Best Fish and Chips in Dublin
____
Browse our deals for restaurants in Dublin.
BY: Ketty Elisabeth
Originally from France, Ketty Elisabeth is a food blogger and food tour guide based in Dublin. Her blog 'French Foodie in Dublin' is an online diary of her food experiences in the Irish capital. From quirky cafes to fine dining, Ketty loves eating her way around Dublin and sharing her tips on her blog.