Beer Gardens Dublin - 5 of the Best for Summer Sips
BY: Edwina Elizabeth |
8 Sep 2015
The sun might be hiding, the rain might be threatening, the air might be chilling but at the end of the day is the night, at the end of the week is the weekend and where better to spend a few of hours than in a Garden in the City, a Beer Garden that is.
There is no doubt in my mind that if you are a smoker you'll know every Beer Garden in the country not alone Dublin City but for the you, them and him over there, here are my favourite Beer Gardens of Dublin City Centre.
The Bernard Shaw
11-12 South Richmond Street, Dublin 2
The Bernard Shaw is a café 'Coffee ToGetHer' that opens from 8.30am to 3pm, Monday to Friday and a pub that opens to midnight most nights except on Fridays and Saturdays when it stays open till 1am. Highlights of the pub include it's eclectic choice of decor, its uber cool gigs and events and its fantastically wonderful Big Blue Bus which sells really delicious pizza from 5pm to midnight Monday to Friday and 1pm to midnight Saturdays and Sundays. As the Big Blue Bus is rather big, you will find it in the Beer Garden, which is also a fine size, has lots of seating and tables, a pool table and a cocktail bar. Events that you can expect to witness range from markets to raves and exhibitions to raves.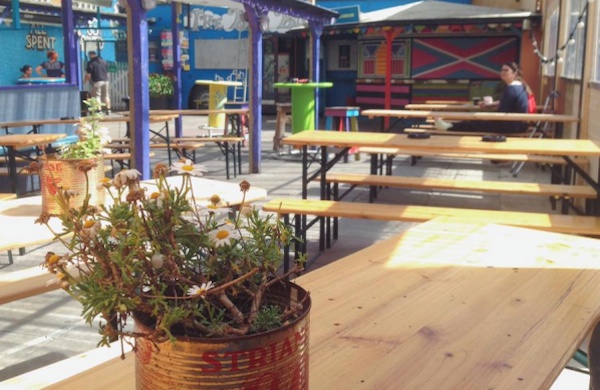 Image Credit: Toners
Toners Pub
139 Lower Baggot Street, Dublin 2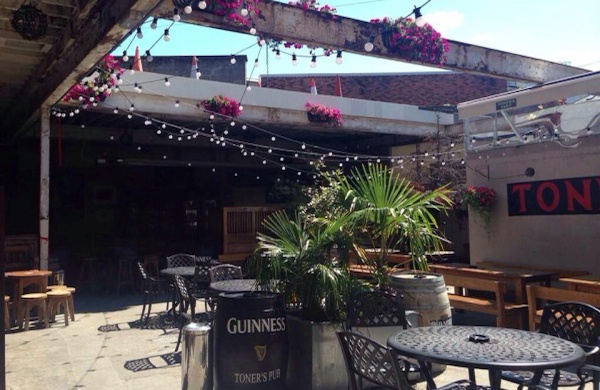 Image Credit: Toners
The nearest thing you will come to a cocktail at Toners Pub is a whiskey and red lemonade. This pub is a typical Irish pub, no umbrellas in your glasses, no faddy drinks just the real stuff and you know what? That's what I love about it. That and its great big Beer Garden or should I say Yard. Although the pub itself first opened its doors in 1818, Toners Yard has only been open since 2012. It's a busy spot on sunny days and mild evenings. On Sunday expect to see whatever game or match is on, on the screens outside but if you're not into that kind of thing you can always look the other way.
The Workman's Club
10 Wellington Quay, Dublin 2
More a Roof Top Terrace than a Beer Garden but who's complaining. I know I'm not and haven't on the many nights I've spent chatting, laughing and dancing out in this open topped area of The Workman's Club. Peaceful early afternoon and pumping with life into the night, this is the place to come to for live music and DJs most nights of the week. Although seating can be like gold dust out in the Terrace, you normally forget you've feet with the fun to be had.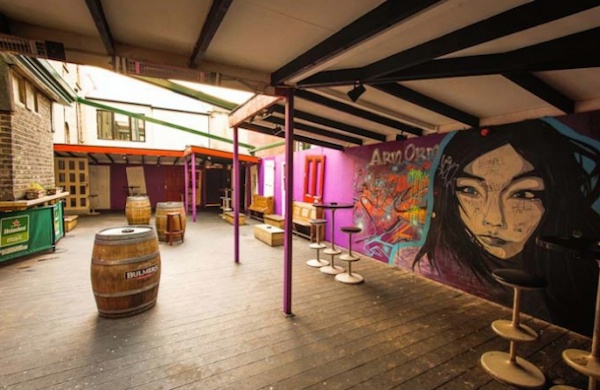 Image Credit: The Workman's Club
House Dublin
27 Lower Leeson Street, Dublin 2
Whether you've been to House on Leeson Street or not, I believe you will agree with me, from merely looking at this photo, when I say that House's Beer Garden is one of the prettiest if not the prettiest in Dublin City. A great spot for cabaret or jazz lovers to chill to, wine in hand, a dine worthy menu for food lovers and a brilliantly stocked bar for those who know their gin from their sin. Those who like to dance the night away are also catered for in the Redroom.
O'Neill's Bar and Restaurant
2 Suffolk Street, Dublin 2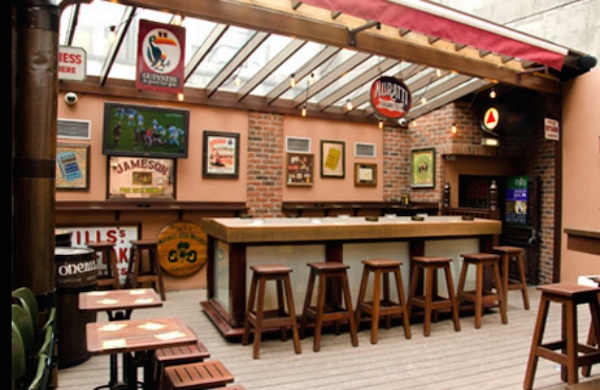 Image Credit: O'Neills
You could say that O'Neill's Bar and Restaurant is touristy but if touristy includes the largest selection of craft beers on draught in Ireland, a host of other beers on tap, a dedicated whiskey corner, live music, food and a roof top terrace then call me a tourist. No you most likely won't be surrounded by the same folk as you met the night before in The Bernard Shaw but you shouldn't care and you definitely won't care if you are a sports fan because the pub is decked out in massive screens for the rugby or whatnot, sure they even have seats from the old Lansdowne Road Stadium for sit upon.
Other Beer Gardens to Note
No Name Bar, 3 Fade Street, Dublin 2
Pygmalion, Powerscourt Townhouse, South William Street, Dublin 2
The Long Stone, 11 Townsend Street, Dublin 2
Cover Image Credit: House Dublin
Related Reads
5 Best Bars for Your Birthday Bash
Top 5 Places to Drink Cocktails in Dublin
____
Browse our deals for bars in Dublin