Dublin's Most Authentic Comedy Club
BY: Claire Kane |
17 Jul 2014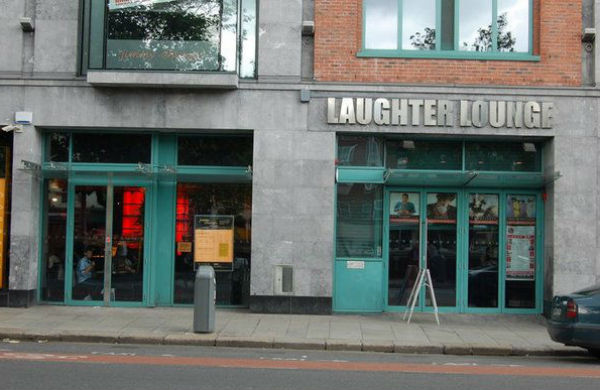 If you're searching for something to do in Dublin at night that doesn't involve pub culture or loud music, a comedy night is a good option. There are quite a few comedy nights around Dublin city but nowhere provides the authentic comedy club vibe like The Laughter Lounge does.
With small, candle lit tables around the room, a red brick wall behind the stage, and pitchers and carb-loaded nibbles available, it's as close as you will get to an American style experience á la the start of Seinfeld this side of the water.
The experience is quite unique to Ireland - upon arrival you get a voucher for a cocktail or beer included in the price of your ticket, you can then order food at your table. The menu consists of typical but tasty finger foods such as nachos, hot dogs, burgers and so on. Half way through the show you have the option to text to order pizza which you can grab at the stage. Pretty amazing, let's be honest.
Shows typically start at 7pm with three acts. Depending on the night, you could get some top class comedy performers such as the king of one liners, Stewart Francis, or hilarious Irish comedians Joe Rooney and Jarlath Regan. You could also be lucky enough to see some fantastic homegrown talent looking to break the circuit.
The regular MCs are skilled at introducing the other acts, however if you are easily offended, it's probably best to avoid a night when they're on, because they tend not to hold back. Watch out for the brash Ballymunner Willie White. If you are easily offended but still love a comedy night, make sure you avoid sitting anywhere near the front - you will be picked on and the room will join in, as is protocol with cosy comedy events.
The Laughter Lounge always provides an enjoyable and relaxed night - all they ask is that you respect the other audience members by keeping the chatting to a minimum while the acts are on. It's a laugh-a-minute alternative night out in Dublin - a welcome substitute for the normal booze-fuelled nights on the dance floor.
The main show normally ends at about half 10 - if that's too early for you, you can stay on for some music and a few drinks.
Tickets are normally priced around €26 and are available from tickets.ie or at the box office. If you are hoping to catch one of the more popular acts you should book in advance - it's not a huge venue so the likes of Russell Kane or Jarlath Regan are likely to sell out to capacity. Check out upcoming events on the Laughter Lounge website.
The Laughter Lounge, 6 Eden Quay, Dublin 1. Tel: (01) 8744611
____
Check out our deals for comedy clubs in Dublin.