Finger Lickin' Fish and Chips in Dublin
BY: Edwina Elizabeth |
8 Sep 2014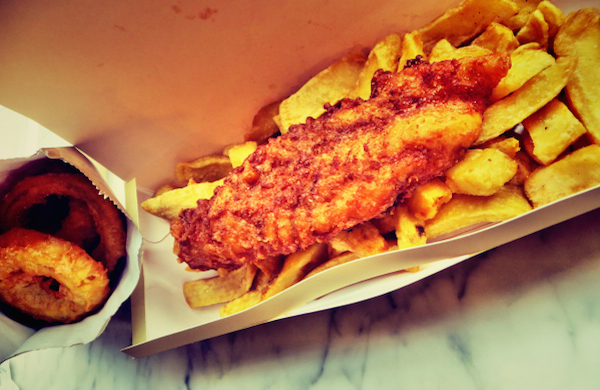 Every sole... I mean soul who enjoys a fish supper, chipper style, whether it's once a month or 'religiously' every Friday evening after a pint down their local will tell you where to get the best fish and chips Dublin has to offer. Most will agree to disagree when it comes to where to go. Some will say the chipper 'round the corner from their house but there are others who will agree that there are at least three fish and chip superstars in Dublin city centre. Well here are my favourites, in no particular order.
Leo Burdock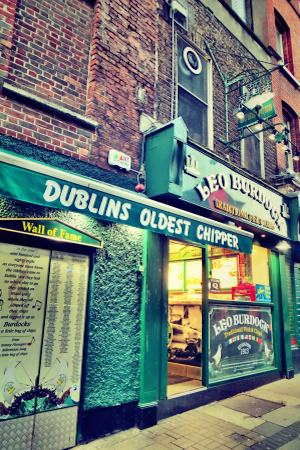 Leo Burdock has been battering fish and slicing potatoes to make some of the tastiest fish and chips around since 1913. Burdock's have seven shops in total but the most famous of them all has to be their 2 Werburg Street location as they have served their fair share of film and music stars in the past, and still do. Reasonably priced for the size of the portions you get, this place is a must try and no doubt you'll be back for more when you do. Not to be left behind, these fine fish batterers can be found on most social media sites and even have their own app.
Leo Burdock, 2 Werburgh Street, Christchurch, Dublin 8.
Opening Hours: Monday-Sunday 12pm-12am
Super Miss Sue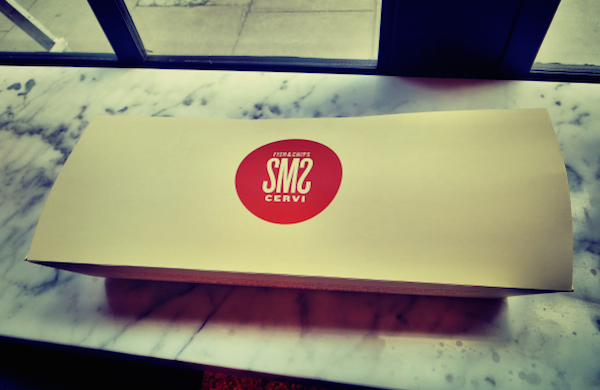 One of the newest kids on the Fish and Chips block, Super Miss Sue opened its doors to the public at the beginning of 2014. It offers patrons a choice of fresh fish coated in traditional or 'curried batter' - I've tried and loved the latter by the way. You'll also find delicacies such as fish finger butties along with cockles and mussels on the menu. You cannot have fish without chips (well you could but you shouldn't) and Super Miss Sue's are chunky chips you won't want to miss out on. Served in a box, you have the choice of taking your purchase on the road or grabbing a stool by the counter that looks out onto Stephen's Street for a spot of people watching.
Super Miss Sue, Unit 2-3 Drury Street Car Park, Dublin 2.
Opening Hours: Sunday-Thursday 12pm–12am; Friday & Saturday 12pm–3am
Beshoff Fish & Chips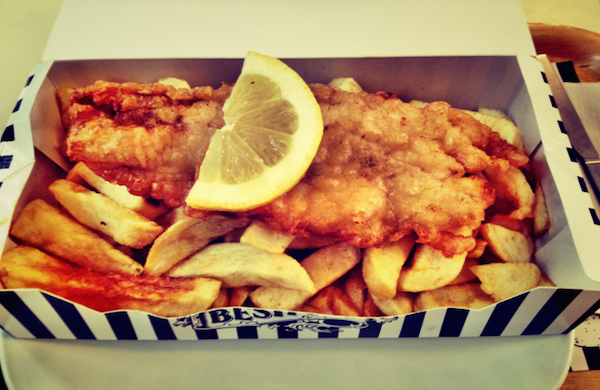 Beshoff on O'Connell Street is actually more of a fish and chips restaurant than a chipper as there are ample tables and chairs both downstairs and upstairs. It's a favourite amongst many locals and tourists alike for their fresh fish and chips and their central location. Their prices are competitive considering you can sit and enjoy your fish and chips on a plate restaurant style. I, however, prefer mine in a box whether I eat in or not. Beshoff on O'Connell Street is a franchise of the well known Beshoffs Bros, who are a different company but who also serve tasty one and ones. The Beshoff name boasts a history as long as the aforementioned Leo Burdocks' and the story goes that the Beshoff's fish is so good that Ivan Beshoff, who came from Russia to Ireland in 1913, lived to the age of 104 with his father and grandfather both living to over 100 years of age, and they credit their longs lives to their fresh fish suppers.
Beshoff, 6 Upper O'Connell Street, Dublin 1
Opening Hours: Sunday-Wednesday 9am–9pm; Thursday-Saturday 11.15am–10pm
There really is nothing like the smell of salted and vinegar splashed fish and chips, whether you're walking in the rain and holding onto your bag of goodies for warmth or whether you're sitting by a street facing window, eating from a carefully made paper box, watching the world go by. For a country surrounded by sea it's great to know that our capital, Dublin, can offer some of the best finger lickin' fish and chips around.
What's your pick for Dublin's best fish and chips? Let us know! @GrouponGuide_IE #grouponguide
Related Articles
5 Early Birds You Need to Try in Dublin
Where to Get a Good Honest Feed - The Best Pub Grub in Dublin
5 Great Spots for Brunch in Dublin
____
Feeling peckish? Find a nice plaice to eat with one of our Dublin restaurant deals!