Food Trucks in Dublin
BY: Ketty Elisabeth |
14 Jul 2015
Food trucks are very popular in America and have also spread across Europe, especially to London and Paris but do we have any food trucks in Dublin? Yes, we do and here is a list of a few of those which are well worth trying out.
Crepes in the City
What's not to love about crepes? They can be sweet or savory and the toppings are so diverse. Crepes in the city is a food truck that has been operating for while now in Dublin, you'll find them every Saturday in Meeting House Square for the Temple Bar Food Market or in People's Park in Dun Laoghaire on Sundays. I personally can't resist a Nutella and banana crepe from this food truck on a cold winter day but there are enough different toppings to satisfy everyone out there.
Crepes in the City, Meeting House Square, Temple Bar, Dublin 2
Gaillot and Gray
Gaillot and Gray is a wood-fired pizza truck parked in Greystones from Wednesday to Sunday from 5pm to 9pm. French man Gilles Gaillot and his wife Emma Gray own a stylish vintage Citroen van and serve their homemade pizzas from their little truck. The dough is thin, the tomato sauce very tasty and they use Emmental cheese to top their tasty fares. This is the perfect place to stop by after a long walk in Greystones.
Gaillot and Gray, Old Watson and Johnson carpark, Greystones, Dublin
K Chido Mexico
The funkiest food truck is Dublin is parked in the entrance of Fegan's on Chancery Street in Dublin 7. You can't really miss it, the entrance has colourful Mexican themed street art on it. Stopping there for lunch will brighten up any day: the vintage Citroen van is pink and turquoise and the sitting area is made out of pallets. What about the food? This is the closest you get to homemade Mexican food in the Irish capital: fajita, tacos, quesadilla, nachos or breakfast burritos are available on their short menu.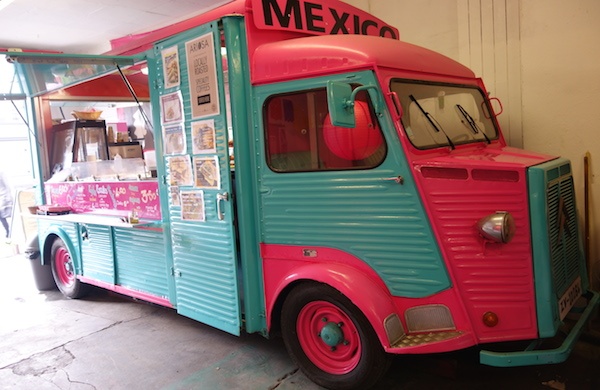 K Chido Mexico, Chancery Street, Dublin 7
Dave's Wood-Fired Pizza
Another food truck that you will often find at festival or events around Dublin, this one sells wood-fired pizza too and is called Dave's. They have a range of 6 different 9" sourdough pizzas on their menu and sell them at a few of Dublin's markets such as Mespil Road, Marlay Park, People's Park Market just to name a few. The crust is deliciously light and thin and the toppings made with quality local produce.
Dave's Wood Fire Pizza, various locations
Related Reads
BBQ Restaurants Dublin - Our New Obsession!
The Best Fish and Chips in Dublin
Best French Restaurants in Dublin - By an Expert!
____
Browse our deals for restaurants in Dublin.