Ireland's Decorative History at Collins Barracks Dublin
BY: Claire Kane |
26 Sep 2014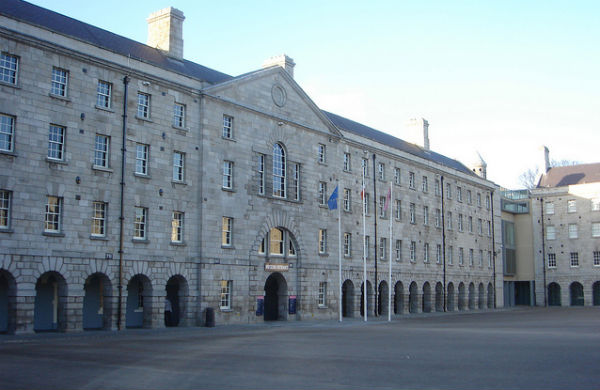 Ireland has a long and fruitful history which is housed in many buildings around the country. One of the must-see museums in Dublin is the Decorative Arts and History Museum in Dublin located in the former Collins Barrack, just a LUAS ride from Connolly Station. It's situated in what was formerly regarded as 'Collins Barracks' which housed both the British Army and The Irish Army over three centuries.
The museum appeals to various a wide range of people because it covers a multitude of topics from the Easter Rising to fashions of times gone by.
Those with an interest in style and art will be fascinated by the exhibition entitled "The Way We Wore". Here there is a display of jewellery and clothing work in Ireland between the 1760s and 1960s. There is no better way to tell the stories of eras past than by looking at the clothes they wore. This exhibition lays to rest the idea that in the past Irish fashion was made up of only Aran knits and thick tweed. In reality we were a fashion conscious nation with a penchant for beautiful garments and intricate jewellery, just like the majority of Europe. From the enormous dresses beaded with glass from the 1800s to the beautiful, full skirt coats adorned with detailed buttons and trimmings from the '60s, this is a stylista's haven.
Another exhibition of interest is the Irish Silver Collection. Ireland is still known for the creation of stunning silverware and jewellery so it should come as no surprise that this collection is copious. Beginning with the origins of the silversmith's craft in the 17th century to more recent times, it shows how design has developed. It highlights the various uses of beautifully crafted silver from religious purposes to domestic.
More than 1000 artefacts from Ireland's international military history from 1550 to the present day can be viewed here - a wonderful historic retreat for those with a keen interest in the grizzly and temperamental history of Ireland's military past. You can take a look at a multitude of items including the stokes tapestry, letters written by soldiers, weaponry and more.
Across the spacious museum an interesting and colourful story is painted regarding Ireland's past. Both tragedy and beauty are depicted throughout the many exhibitions, permanent and temporary. It's a fantastic place to visit and an informative way to while away a few hours in Dublin.
As with all national museums it's free to enjoy the many treasures housed in what is a treasure in itself.
Visit the museum's website for more information about the exhibitions and opening hours.
Image courtesy of Brood_wich via Flickr.
Related Articles
A Lovely Bit of Culture in out of the Rain
Walking with Dublin's Ghosts and Spirits
Getting My Culture Fix at the Hugh Lane Gallery
____
Find a deal for more must-see Dublin attractions.