Must-See Vintage Markets on the Northside
BY: Edwina Elizabeth |
7 Jul 2014
When it comes to vintage and craft shopping in Dublin, markets are the way to go. Whether you're looking for a vintage teapot to go with those scones you bought for afternoon tea or that special something for your craft-loving friend, Dublin City has the solution. One man's trash is another man's treasure - as I stroll from stall to stall I never know what quirky treasure I'll unearth next.
Dublin has a host of talented designers who exhibit their wares at markets. I love showing support to their talents and I always find something uniquely crafted to wear. Meeting interesting people from all walks of life adds culture and colour to my shopping experience and Irish-based crafters are the most colourful of them all.
Here are my favourite two vintage and craft markets on the north side.
Ha'Penny Flea Market
Open: Saturday
Every Saturday The Grand Social Bar and Venue is transformed into the Ha'Penny Flea Market. There is a very vintage feel to the market and on my visits there has always been a varied selection of items to buy. Vintage clothing is displayed next to home-wares such as vintage china. Vinyl records make way for jewellery and hats. Crafty handmade designs sit nestled among all of the above and on certain weekends you will even find professional artists exhibiting their paintings.
What is special about the Ha'penny Flea Market is that the stalls rotate every week so no two weeks are the same. What also caught my attention when I started to frequent the market is, not only are there lots of great stalls under one roof, but there is a DJ there to keep you almost jiving from stall to stall. If the DJ's tunes don't tickle your fancy then the fact that there is a fully functional and serviced bar open to your order might.
Ha'Penny Market, 35 Lower Liffey Street, Dublin 1.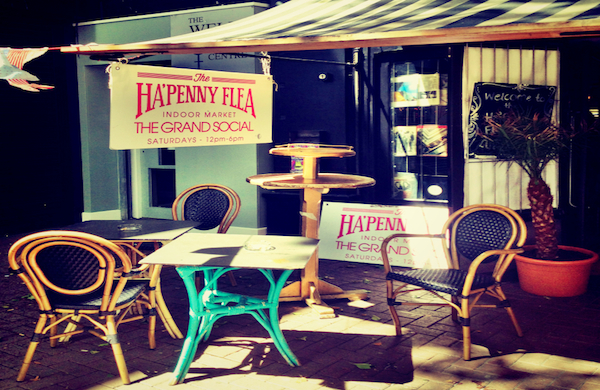 Merchant's Market
Open: Saturday and Sunday
Open every weekend and with plenty of free parking, Merchant's Market is easily accessible by foot from Dublin City Centre, but depending on the weather and what mood you're in, you can always hop on the Luas which will drop you nearly to its doors. It's Dublin's largest indoor market with about 100 stalls but it has big plans to become even bigger with an estimation of 500 stalls planned for the end of 2014.
You'll find an eclectic mix of items for sale at the market but the main areas are bric-a-brac, clothes, furniture, food, antiques and collectables and music and games. You won't necessarily find craft items at this market but you will find tons of vintage items particularly clothing, homeware and furniture. A lot of the items on sale have been sourced nationwide and from Europe. Some have come from house removals - arriving at the market doors as liquidation stock. Bartering is expected when it comes to this market but always play fair.
Merchant's Market, East Wall Road, Dublin 3
____
Check out our deals for shopping in Dublin.