Oolong Flower Power - Ireland's Biggest Tea Emporium
BY: Edwina Elizabeth |
17 Jul 2014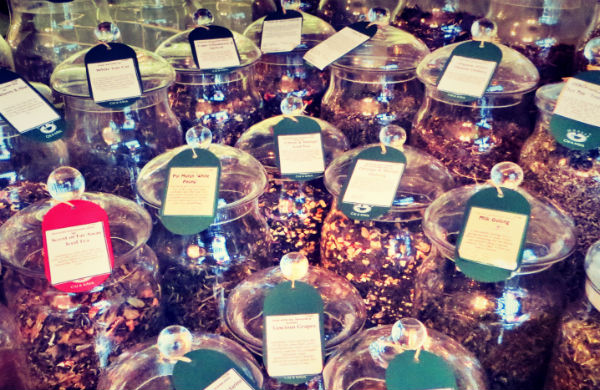 There were a number of factors that initially stopped me from visiting Oolong Flower Power: my impression that it just served tea, the fact that I don't know very much about tea, my understanding that it didn't serve coffee and the idea that there was no food to be had - how wrong I was. Since visiting, and becoming a frequent visitor at that, I have learnt that although I may not be a tea connoisseur, I am gradually learning. Oolong does serve coffee, it serves scrumptious food and it offers its patrons more than just somewhere to grab a cuppa.
The Tea
When you enter the shop you will find a huge selection of speciality teas to choose from, be it green, black, red, white, yellow, blooming, rare or organic. The teas have been sourced from all sorts of far flung places such as China, India, Nepal, Taiwan, Japan and Sri Lanka. This is, in fact, the biggest serving tea emporium in Ireland.
If, like me, you aren't the most insightful tea taster, you need not worry your thirsty self as the shop assistants are friendly and well trained. They will guide you or recommend a tea to suit your mood. Something zesty to waken you up, something calming for 'one of those days', something chilled in the form of a smoothie or a refreshing iced tea, or even something to match your food .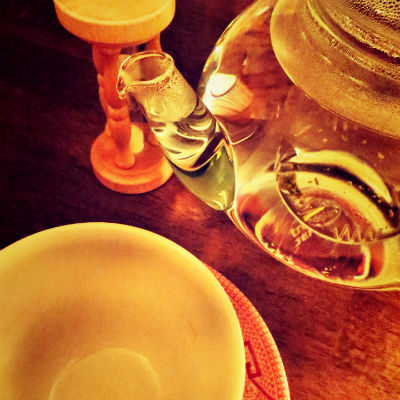 The Coffee
However Oolong Flower Power isn't just a teashop, it serves delicious filter coffee in a range of varieties. On my last visit I tried the hazelnut coffee, which smelled divine and tasted it too. If coffee is your thing, you can have a blend crafted for you using the any of the 40 varieties of coffee within the shop - have it there or take it away to enjoy at home.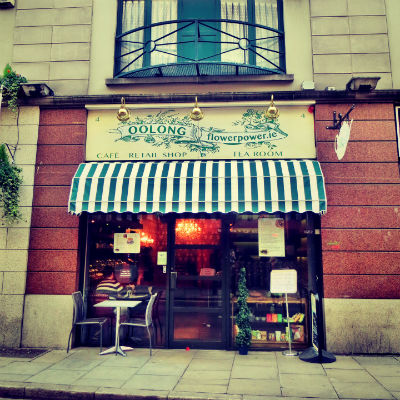 The Lunch Menu
The fun doesn't stop there because Oolong does food, and delicious food at that. For lunch they serve gourmet sandwiches, wraps, salads - all made with locally sourced produce and superfoods. Yes you heard right - superfoods! Take for example their super food salad which includes loads of goodies like blueberries, pomegranate, avocado and sunflower seeds. They're great for the health conscious and your choice of lunch can be matched, with the help of a shop assistant, to the type of tea or coffee that suits it.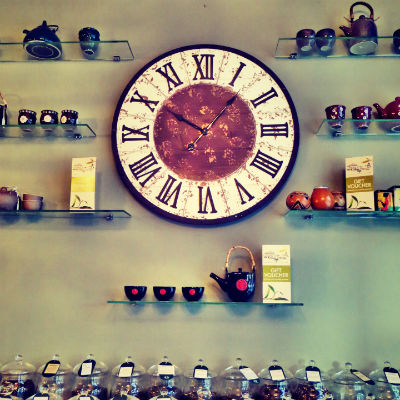 The Evening Menu
From 5.30pm the evening menu comes alive and the most fun, interesting and moreish thing to try from this menu are the 'teazzas' - like pizzas only they're teazzas. The reason for the name is because the passata sauce has been infused with herbal tea. They're different, delicious, stone-baked, thin, crispy and surprisingly low in calories. I've tried all seven of the teazzas on the menu, obviously not devouring them myself in one go but sharing them. A few of my favourites have to be the 'quattro formaggio' which, as the name suggests, is topped with four different cheeses: Toonsbridge buffalo mozzarella, emmental, cheddar and parmesan. 'The nutty pear' which is topped with pear, walnuts and Cashel blue cheese and the 'rustic goats cheese', which is topped with goats cheese, caramelised onion and rocket- great for sharing or just for yourself.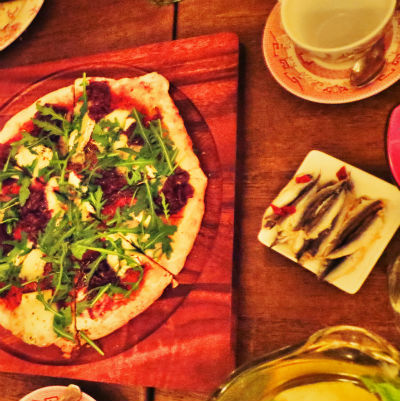 The Details
Oolong Flower Power opens from 11am until 11pm each night but doesn't serve alcohol. I find this a refreshingly positive alternative to the choices one might have if out and about past a certain hour. They offer comfy couches on the lower level and free Wi-Fi - perfect if you have some work to catch up on or an assignment to finish. As it's also a retail shop, you can buy your tea, coffee and even a new teapot to take home. Oolong on Stephens Street is the only one of its kind in Ireland but with plans to open other venues in the coming years, there could be one coming to your neighbourhood soon.
Oolong Flower Power, 4 Stephens Street Lower, Dublin 2
____
Check out our deals for cafes in Dublin.